The problem with H&R Block, Liberty Tax, and Jackson-Hewitt is that they have inadequately trained professionals, and that they overcharge for their services.  You also will likely not be able to meet with the same person each year.
Companies like H&R Block and Liberty Tax hold training seminars 12 weeks before the tax season begins.  They offer the classes as free training on how to prepare a 1040 tax return.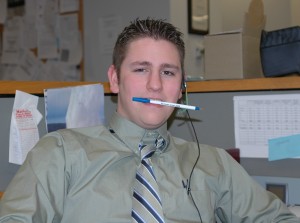 While the people are in training they are offered a job to work as a tax preparer.  After 12 short weeks, only breezing through each of the tax topics they are preparing returns for you.  Some of these people take the classes with the intention that they may be offered a position.
They even have the nerve to attempt to prepare business tax returns where they have absolutely no training on this matter.  They are only advised to review some of the examples that they have in their software.  They are not to turn away a business owner that is looking for a business return prepared.  This is malpractice, if there was a standard for tax return preparers, which there is none.
H&R Block and other franchised curbside tax return preparing companies oftentimes will charge you more for a tax return than if you would go to a CPA.  They charge on a flat fee based on the different forms that the software generates.  Even though they only had to enter one number for education expenses they might charge you $50 for that service.  The value of the service you are receiving is not even a quarter of what they are charging you.  You wouldn't pay a high school student that has 12 weeks of training $100 or even $200 an hour.
The turnover at Liberty Tax and H&R Block is outrageous, because they might be able to offer one person a full time job at each location.  The rest of the tax preparers are found each year right before tax season.  The software they use is an in-house software that is below the standard for CPA's in the industry.
As a CPA I have over five and half years of education, three and a half years of training in accounting and tax.  I have several years of experience behind me as a tax preparer.  I have taken the extensive CPA licensure exam and passed.  The exam itself is 16 hours long, and covers the areas of audit, accounting, tax and business.  I bill clients on an hourly basis.  If the return is simple you will not overpay.